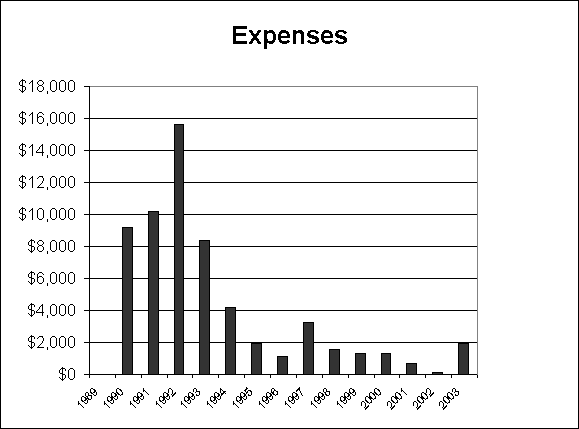 (Remember, these are just cash expenses. To date we don't have any paid labor or rent. See the "goodwill" parts later.)
In the early years I was spending money on patent attorneys, prototypes, pre-marketing, applications in 16 countries, etc.
From 1997 to 2000 the expenses were about $1,800 a year. That was roughly $600 for each of our 2 patent applications, and then a few hundred for everything else. After 2001 I did not spend any more on "Osteo", the birth defects application. It was officially abandoned Dec 2002. All I am investing in now is "OptiDose", our dose by weight application. No re-write in 2002, but in 2003 I went double - a re-write and an appeal on the old one.
From 2001 to 2003 our average expenses were about $900 a year. The low expenses are a good reflection of my / our subdued interest in these last few years. Don't read too much into last year's apparent increased activity, but I am getting a little more aggressive about getting approval. If we do get approved, spending will go up considerably.
| | |
| --- | --- |
| Year | Expenses |
| 1989 | $0 |
| 1990 | $9,172 |
| 1991 | $10,185 |
| 1992 | $15,626 |
| 1993 | $8,358 |
| 1994 | $4,218 |
| 1995 | $1,965 |
| 1996 | $1,103 |
| 1997 | $3,237 |
| 1998 | $1,584 |
| 1999 | $1,327 |
| 2000 | $1,284 |
| 2001 | $714 |
| 2002 | $109 |
| 2003 | $1,967 |
| Total | $60,849 |